CKBlog: Strategies Sunday, September 29, 2019 Choose the Best, Do the Worst?

by Steve Haberstroh, Partner
"Should I just invest my entire portfolio in the S&P 500 Index? It's done so well and represents the best economy in the world."
Have you heard this? I have. And not only from so-called "mom and pop" investors. Analysts, pundits, and even Warren Buffett himself has advocated for going "all-in" with the low-cost option of investing in America. And why not? It HAS done so well over the last ten years. Just take a look at the US total return versus Europe and the World Outside of the US over the last ten years through the end of August 2019.
Source Bloomberg
US: S&P 500 Index (SPY)
Europe: MSCI European Index (MXEU)
World: MSCI World Ex-US Index (MXWOU)
*all in USD terms
Now annualized:
Source: Bloomberg
In summary, the S&P 500 Index has absolutely CRUSHED its non-US counterparts. $100,000 invested in each back in August 2009 would have grown to: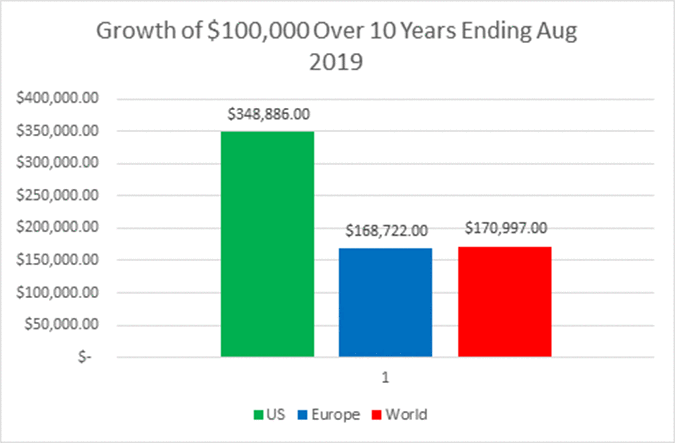 Source: Bloomberg
If looking back 10 years was your only criteria, the S&P 500 Index was clearly a no-brainer. Your US portfolio would have doubled both!
But if you are contemplating moving your funds to an "all S&P 500" portfolio today, that means you have not experienced its performance of the last ten years. You would have had to go "all-in" on the US ten years ago…
August 2009
The world was coming out of the Financial Crisis, but we didn't entirely know it was behind us yet. We were still reeling, terrified the world would never fully recover. The unemployment rate hovered around 10%. President Obama had been in office for just six months.The Pittsburgh Steelers, NY Yankees and LA Lakers won their respective titles. "Harry Potter and the Half-Blood Prince" was the top movie. The iPad hadn't been invented yet. You were jamming "I've Got a Feeling" by the Black Eyed Peas in your iPod mini. I had just met me future wife, Erin and we now have a ten-month-old son. A lot can happen in ten years ...
Now that you are in a 2009 state of mind (and I have wiped away my nostalgic tears), I'd like to pose a question. If given the option to go all-in on the US, Europe, or World, which would you have selected back then? Jot down your answer and see if it changes based on the below.
Seeing the ten year total return for each ending August 2009 may help. First without identifying each index:
XXX: +37.38%, +3.22% Annualized
YYY: +36.87%, +3.19% Annualized
ZZZ: -8.05%, -0.83% Annualized
Which would you have chosen for the next ten years? The one that lost -8% over 10 years? Or one of the other two that returned over +35%?
Now with identifiers: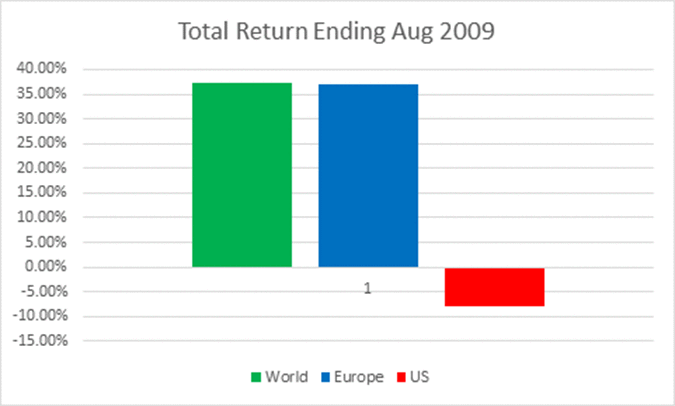 Source: Bloomberg
Yes. Shocking, I know. The S&P 500 Index actually lost money over the ten years ending August 2009.
Would you have chosen it then despite its dismal performance? Or would you have gone with what had done best—like many are suggesting you do today. With the benefit of hindsight (and this blog post), we now know how that would have turned out.
Back in 2009, choosing what had done best was the worst decision for your future self.
So I ask you again today. Which would you choose? The one that has done best?
Disclaimer: Past performance doesn't guarantee future results. Steve Haberstroh nor CastleKeep Investment Advisors LLC (CKIA) are recommending any of the securities/indexes referenced in this post. CKIA clients may own some of the securities/indexes referenced in this post. Please consult with your advisors for specific investment recommendations.